A mountain resort is hard to find this time. But in a certain part of Davao City, you can find a nature park where you can relax. Eden Nature Park and Resort is located in Emilio Jacinto Street, Batangas Eden, Davao City, 8000 Davao del Sur. It would take for about an hour or more to reach the park from Davao City International Airport. The relaxing beauty of the park and the breath taking view of Davao City relieve your stress.
It is one of the place where tourists visit because it is far from polluted City. You can enjoy many activities in the park. The following are some things to do in Eden Nature Park:
Skyrider
he Skyrider is a set of 200-meter long steel cables suspended roughly 20 meters in the air between two steel towers, on which you glide along suspended while enjoying the spectacular view of Davao City and the Davao Gulf.
Fishing Village
You can experience the simple joy of fishing and eating what you catch. The ponds of the Park are abound with tilapia (St. Peter's Fish), dory, and hito (catfish). Whatever you catch is weighed and paid for. You may either take these home or eat it fresh from the pond.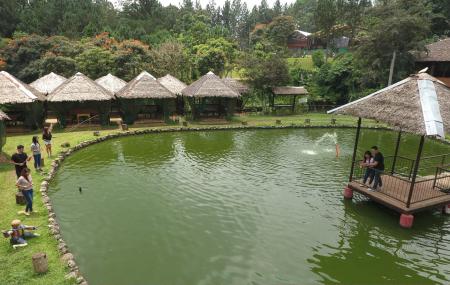 Swimming
Be refresh in the park's swimming pool surrounded by lush vegetation. This used to be an infinity pool with the Davao Gulf as a horizon.  The blue, kidney shaped pool is 4.5-feet-deep. For the young ones, the pool has a shallow area (roughly 3 feet), as well as a kiddie pool. The snack bar provides food and refreshments after a swim.
Skyswing
Standing 95 feet off the ground, the ride will literally swing your heart out to the skies giving you an extreme feeling of excitement, satisfaction and fun. The ride will surely challenge your limits at the resort's highest and fastest adrenaline rush. All ages are welcome to enjoy the ride, provided that reach the height requirement of 4 feet and within maximum swing weight of 300 kg.
Horseback riding
It is definitely exciting, relaxing and refreshingly outdoorsy. Explore the trail, lined with beautiful pine trees. Leave the stresses and worries of life behind you and take in the splendor of the scenery.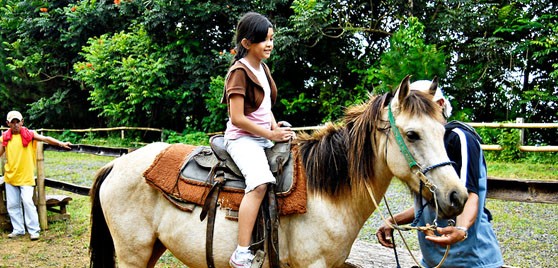 Sources:
tripadvisor.com.ph/AttractionsNear-g298459-d549339-Eden_Nature_Park-Davao_City_Davao_del_Sur_Province_Mindanao.html
edennaturepark.com.ph/index.php/recreational-activities/