Summer is approaching. Hot season is the most loved season in a year. We go to the beach, enjoy camping, swimming and left and right picnics. It is best to do these activities when we have our favorite summer foods. Here are some of the favorite foods during summer:
HALO-HALO
Its is a sweet treat combination of crushed ice, ice cream, kidney beans, sweetened banana, macapuno, langka, monggo, ube jam, gelatin, nata de coco, creamy milk, leche flan. The name halo-halo came from the term "mix".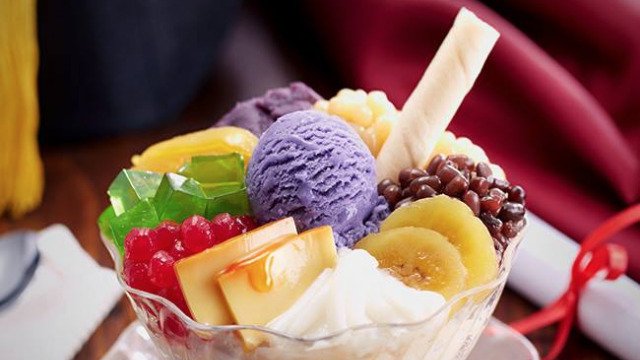 ICE CREAM
It is a cold treat made from the a coconut or carabao milk. It is more delicious when flavored with chocolate, cheese, vanilla, ube, mango and more.
Buko Shake
It is a drink made from coconut meat and water. It is best when serve cold. Condense, evaporated milk and sugar make the shake awesome.
Mais Con yelo
It is almost the same with halo-halo, but a more simple version. It made from shave ice, milk, corn kernel and sugar.
Buko Pandan
It is a famous dessert from a young coconut meat and screw pine leaves or "Pandan". A green gelatin which contains the aroma and flavor of the Pandan made the dessert unique.
Sources:
https://www.spot.ph/newsfeatures/5-facts-about-halo-halo-you-didn-t-know-adv-con
<https://outoftownblog.com/10-pinoy-summer-food-favorites/>